Another major construction milestone  on the Tappan Zee Bridge project.
"To get to this point is very big," Tappan Zee Constructors construction services manager Ro DiNardo told The Journal News.
Over the coming weeks and months, there will be a whirlwind of activity on the $3.9 billion project in Rockland alone.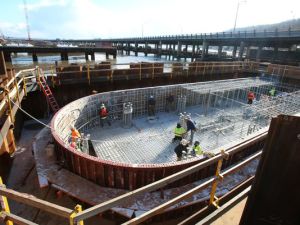 Watch them build this hulking structure known as an abutment, which is where the new crossing meets land.
http://lohud.us/1BJb9Iy
Lohud  Khurram Saeed, ksaeed@lohud.com, January 9,2015